Creating a sense of space
Today, more than ever, creating distinctive social settings that are welcoming and feel like 'home' is a vital trend across myriad architectural environments — from commercial to hospitality to residential.
Dramatic entrance
The centrepiece of the lobby of the Paramount Hotel in the heart of New York's theatre district could be described as 'dramatic', with a superb combination of three XL ethanol burners and polished stainless steel sheets.
Healing environment
Creating a sense of warmth and comfort within a state-of-the-art cancer treatment center in New York was a key frn_'s for architect Jeffrey Berman — and the inclusion of an EcoSmart Fire helps provide a soothing, healing environment.
Creative solution
EcoSmart Fires have been cleverly used to create some distinctive kitchen designs — and this one in Queensland, with its emphasis on quality fittings and appliances, is no exception.
Making sustainable mainstream
A new townhouse in Adelaide is making its mark as a completely sustainable, zero-carbon, zero energy home — and EcoSmart ticks all the boxes.
Outdoor impact
An EcoSmart XL900 burner was key to creating an award-winning show garden at the Australian Garden Show.
Manhattan illumination
A private lounge in a centrally located New York apartment block the epitome of style and elegance, with a unique solution used to provide the primary source of light.
Eclectic minimalism
The effect of the softly moving flame created by an EcoSmart Fire is what this composition needed to truly 'make' the space of a Toronto condominium.
Fire & water
Stunning on their own and even more attractive when paired, fire and water are back in a big way this summer. Self-contained and free of utility lines, EcoSmart Fire ethanol burners can be added to outdoor water features for an unexpected and one of a kind piece of decor.
Outdoor living spaces
Outdoor living has long been a mainstay of landscape design but it is only recently that standalone fire features have been used to accentuate the landscape.
Keep it linear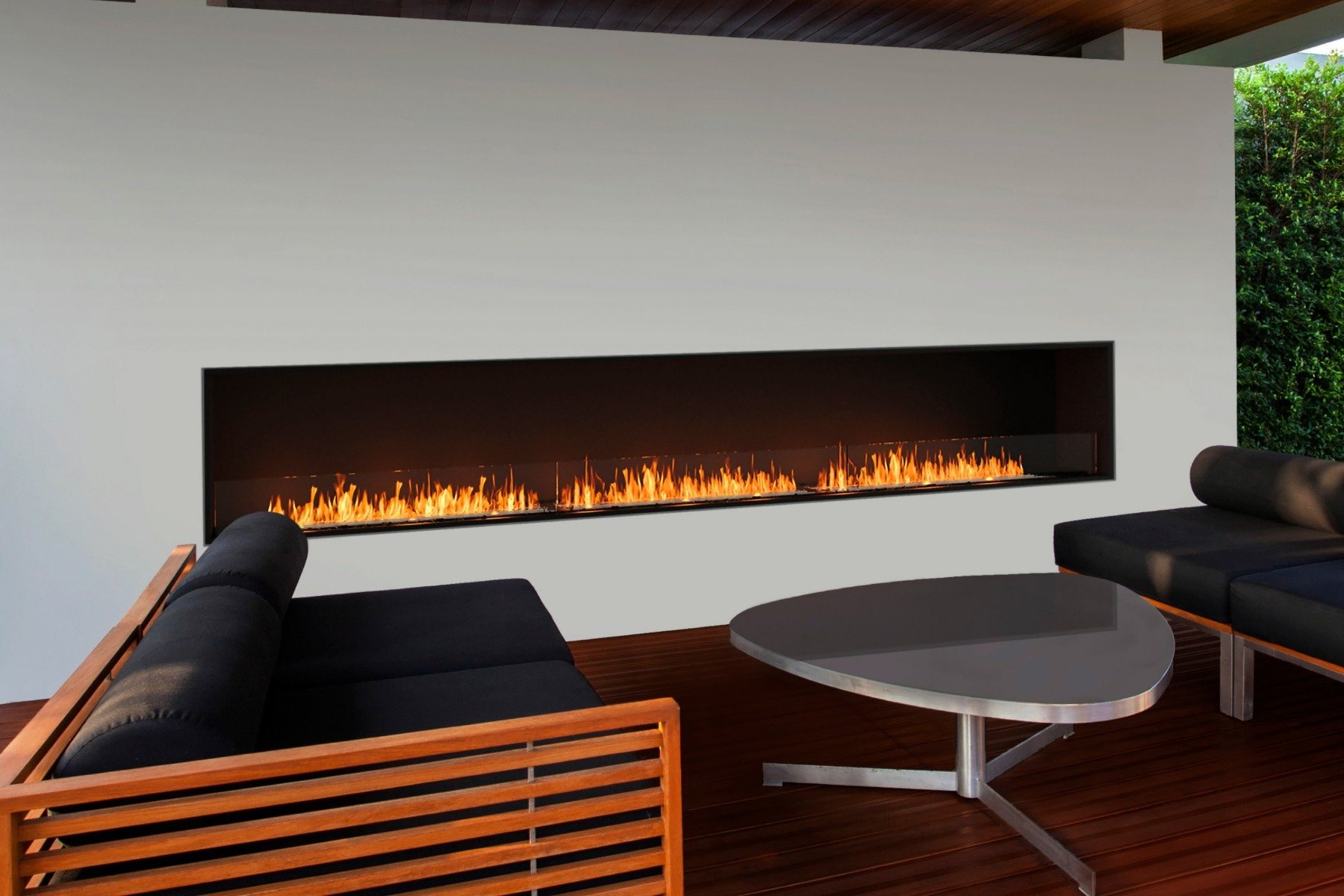 Bring modern and minimalist fire design to the outdoors with our XL Series Burners. These linear burners offer robust flames without the hassle of smoke utility connections. Install burners into a custom feature or use in conjunction with one of our zero clearance fireplace inserts.
Fire as art
Nothing catches the eye like a glowing lame. Take advantage of fire's captivating presence by incorporating it into outdoor spaces where visual interest is needed. EcoSmart Fire's wide range of burners are self-contained and ready to elevate the look of any outdoor space.
XL burners an integral design tool
They've been variously described as cabinet fires, sideboard fires, floating fire benches or hearths, and chiffonier or credenza-style fires. But regardless of the name or style, one thing they all have in common is the use of EcoSmart stainless steel XL burners to create an elegant, elongated fire in a tailor-made setting.
"The parallel lines of a rectangular-shaped fire are the perfect match with the clean lines of todays contemporary living. There's great synergy."
Stephane Thomas, Director MAD Design Group
EcoSmart's XL burners and even several of the BK Series square-shaped burners are increasingly being used to create a 'stretched' flame. They're now a vital accoutrement in a designers palette of tools and are being integrated into specially-made cabinetry, media units, walls, 'floating' timber or stone benches and pillars — to name but a few.
The linear features and absolute versatility of the XL burners ensure they can be easily integrated into a horizontal piece of architecture. And depending on the desired outcome, a diverse range of materials can be used in the construction. For example, burners have been incorporated into concrete and hard timber benches, set into marble into stacked stone walls, stainless steel — even metal barrels which have been cut in half.
"Rather than being an afterthought, EcoSmart's burners are now a principal design tool; part of the overall solution of indoor and outdoor environments. And each one is personally styled for a lasting impression," Thomas says.
A growing trend is to incorporate XL burners into sophisticated media rooms, as a core part of the media/entertainment unit. "Simply put, big screen TVs are forced into the background as the remnants of an earlier technology obsessed decade, while something more traditional and beautiful becomes today's focal point," Thomas says.
EcoSmart's XL Series of stainless steel burners comprises three different sizes — the XL900 , XL700 and XL500.